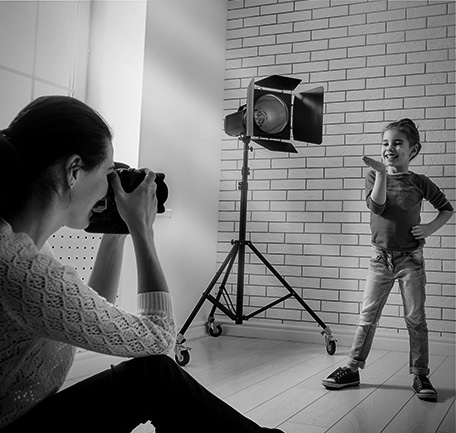 Kids Photography
Our kid's photography services at Overlight focus on display. These memories are an invaluable record of your important family history. We have seasoned and talented photographers to capture the ultimate photograph of your baby in a beautiful, artistic style. Our kids always deserve more!
Professional and Friendly
Children's Photographer Team
We believe in tangible heirlooms, elegance and sculpture! Children's photographer Dubai services at Overlight focus on display. We believe that they should be visible in your life to remind you of the good and the true every day. They are an invaluable record of your important family history.

Our baby photography services in Dubai are the face your baby's next memorable moment. We have seasoned and talented children's photographer team to capture the ultimate photograph of your baby in a beautiful, artistic style. We think babies look the most adorable when held in the arms of their parents, or cuddled in one of their own baby blankets. Our professional children's photographer Dubai captures this beauty with the use of real stuff, natural window light, and digital cameras.


Devoted and Fervent
Kids Photoshoot
For the simple explanation that we all love to cherish the most beautiful and warm moments of our lives, children's photography has been a common trend these days. Photographs of loved ones are the most exquisite way we want to relive those moments. Photographs have an inherent capacity to transport us down memory lane by reviving all those lovely memories of extreme joy.

Holding an archive of photos of their newborn babies is the greatest present any parent might get. In today's fast-paced world, every expecting couple is calling for newborn baby photographs. Couples are more work-focused and have little time to spend with their families. Around the same time, in today's fast-paced culture, it's important to maintain emotional equilibrium.

Why parents all over the UAE prefer Overlight for children's photography:
Professional Photography
Prints, framed portraits and digital images delivered in-studio the same day
Affordable personalized portrait products of your kids


High Quality Child Portrait
Photography Services
Overlight is the leading family finest portrait studio in the UAE. We're a one-of-a-kind custom mobile photography studio specializing in newborn, maternity, infant, child, and family portraiture.

The interests of parents and babies have been prioritized in the growth of our service. That's why we're mobile and come to you at home, offering an unrivaled high-quality, bespoke fine art photography experience! Overlight also specializes in making stunning impressions of children's hands and feet, with the youngest being just 10 hours old!


Creative Kids Photography Services
All Over Dubai
We excel in capturing the kids' distinct personalities. Our talented children's photographer team spends time with you and your family to get to know you and catch your most unforgettable moments. Simply give us the ability to catch the most precious memories of your life and assist you in preserving them for the remainder of your life.

Overlight is the face of hospital baby portraiture. In the hospitals, we put in highly trained and experienced children's photographer. The first photograph of the infant should be shot in a realistic and imaginative way, which is what we excel at. Professional children's photographer and fine grade cameras capture all of the shots in natural light to have some of the best baby photoshoot and maternity photo shoot.